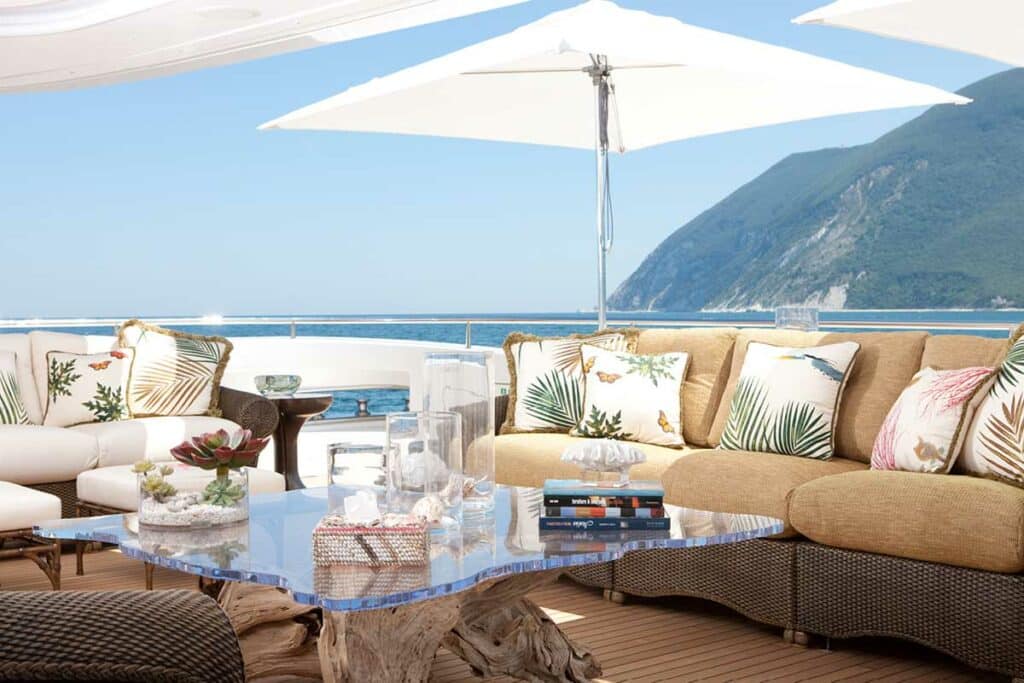 Does anyone else feel like the year is simply flying by? We are already in mid-August and the days feel like they're on fast forward. I recently took some time off to disconnect , but it has been full speed ahead upon my return, which is why I am a big fan of the new "slow living" trend.
Slow living is all about adopting a slower pace of life, with a focus on being present in every moment. While going slower may not always happen at work for me (not possible when we delivered 7 yacht projects in the first half of the year), it is a luxury in itself for my clients to have a space in which THEY can slow down. A space where they can breathe deep and feel at ease.
How does that translate into design? Many of the trends for fall 2022 are yachting classics, concepts that are standard in our firm's projects to ensure that when a yacht owner steps on board they can feel their bodies relax, their days slow down, and their senses begin to guide them. That is when we know we have a successful design.
Here are a few of my favorite fall trends that you'll see in every PKD project:
(1 main image – Photo Collage – Wood table in Anjillis, Marble in III Amigos, Long room shot from ALTA, spa or gym room, collection imager, etc – Sam at Mugsy finding images for this)
Natural Materials – Yacht design is never low on woodwork, but natural woods in furniture and decor are taking center stage this season. Other natural materials like leather, terracotta, rich marbles, raw stone and organic fabrics are perfect for the season, and perfect for the senses. The materials practically call out for you to take a moment to touch them.
Health as the New Wealth – Self care is health care and our projects are taking these spaces on a yacht to a whole new level. Going beyond a simple gym, new designs on modern yachts include state-of-the-art full wellness centers complete with a spa, sauna, massage room, yoga and meditation spots, and even pilates studios and reiki rooms for clients who desire them.
Interconnected Spaces – With mobile technology and a post pandemic world, the work – life balance lines have blurred and now every space needs to be one in which clients can relax, work, socialize and feel connected while still having personal space. This challenge is met in many creative ways from furniture groupings to room dividing curtains, walls that retract and more.
Strategic Collecting – Comfort is a big buzz word in design these days and nothing is more comforting to some clients than their prized collections. Gone are the days of complete minimalism in a space, but so is decor that serves no purpose. Spread across a room or a yacht, a collection of pieces may be chaotic and cluttered, but strategically showcased they can become a delight for the eyes and an ease to the senses. You'll definitely want to slow down and take it all in! The trick to keeping it streamlined? Pay attention to color grouping and height placement!