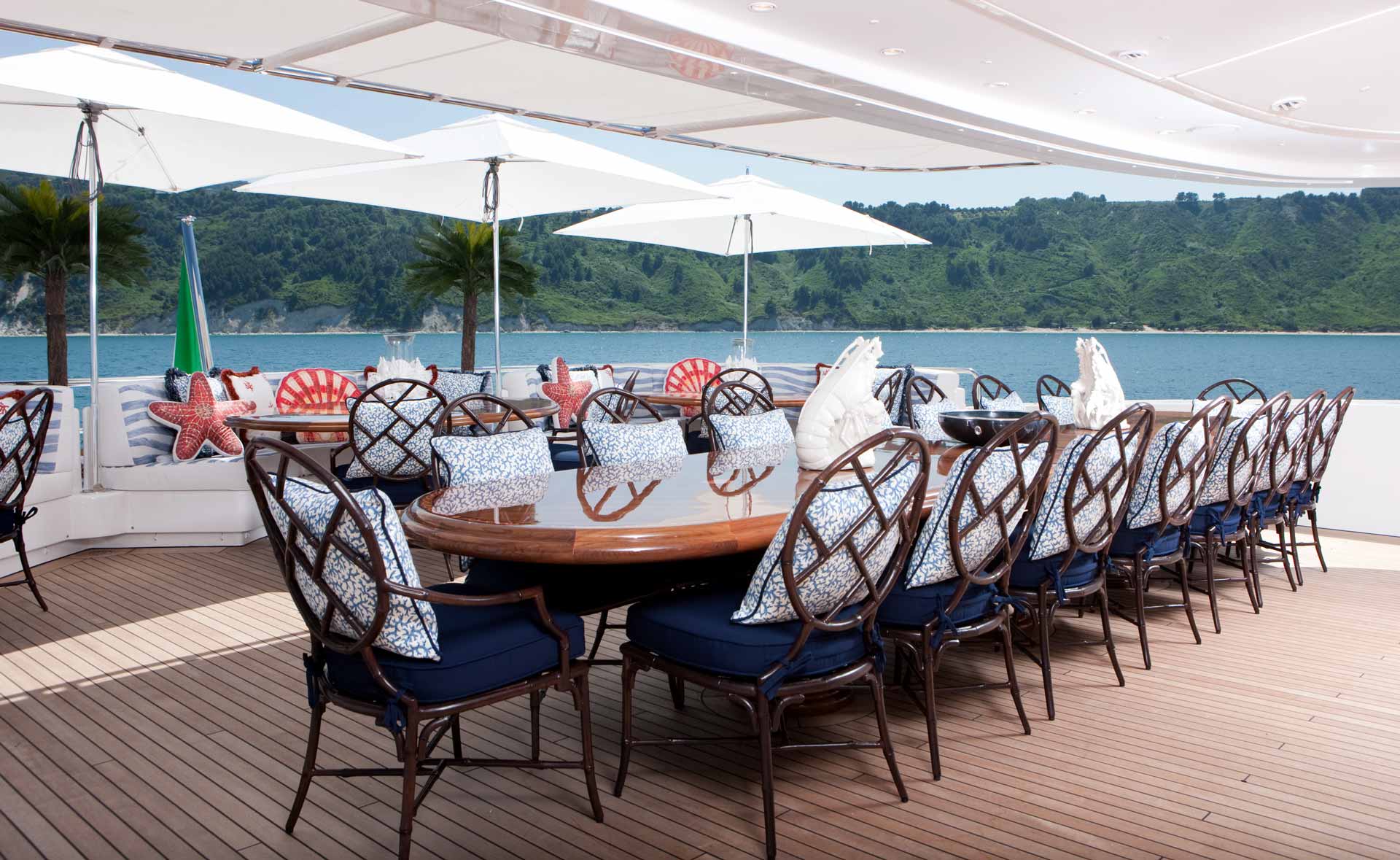 Over the last decade, the changing economic tides have impacted global interior design trends and consumer tastes that have significantly impacted luxury super yacht design.  
The South Florida superyacht industry, in conjunction with the luxury super yacht interior design community, has grown exponentially over the last decade. Most notably, South Florida has now not only become the premier home and destination for global superyachts in North America, but also a hotbed for luxury yacht design and luxury design in general.  
Though global design trends and international vendors certainly still play a large role in the work we do at Patrick Knowles Designs, as a superyacht designer based in Fort Lauderdale, Florida (the yachting capital of the world), we now also work heavily with local South Florida craftsmen, artisans, product manufacturers, suppliers, and designers. I also have the benefit of working with my clients directly onsite, representing them at the shipyard to ensure implementation specifics and working with superyacht designers on exterior design and styling. 
Clients can also visit and work with the team in our Fort Lauderdale design studio that not only displays a large portfolio of pieces by Patrick Knowles Designs, but also allows us to review drawings and designs together before ever taking to the water.
The inspiration for design is ever present in South Florida with luxury at the forefront of new and enhanced areas in Miami, Fort Lauderdale,and Palm Beach, design centers like the South Florida Design Park. The area's hosting of major global events like Casacor & Art Basel have not only made South Florida a cultural leader but a global destination for leading designers and creative professionals from around the world. 
It is in this environment that we find the calling to create the ultimate in superyacht interiors.

The South Florida superyacht industry is also an increasingly vital component of the overall South Florida economic engine.  A recent study of the mega yacht industry reinforces South Florida's position at the forefront of worldwide growth and expansion for megayachts.  In fact, according to the Marine Industries Association of South Florida, the worldwide fleet of mega yachts has nearly doubled since 1997, with South Florida waterways seeing an increase from 800 mega yachts 20 years ago to 1,800 today. 
The luxury superyacht industry growth from Miami through Fort Lauderdale and West Palm Beach to Fort Pierce has brought several new marinas and yards, as well as extensive upgrades to existing facilities. Among the new are Seahaven Superyacht Marina in Dania Beach and Port 32 Fort Lauderdale, which both opened for business this year. Las Olas Marina and Pier 66 South (formerly The Sails Marina) are open but plan complete overhauls, and development has begun in the port of Fort Pierce with Derecktor Ft. Pierce and its neighbor, Fort Pierce Yacht and Ship.

Just this year alone, the Fort Lauderdale Boat Show – the largest in-water boat show in the world – introduced the SuperYacht Village, an experiential destination attracting the finest superyachts and everyone who is anyone from the superyacht community around the world. Between now and the spring, at least seven regional and international shows in South Florida are scheduled, along with the Super Bowl in Miami – all of which are certain to attract the most discerning superyacht owners and luxury consumers from around the globe.  
Over the last decade, South Florida luxury design consumers and superyacht owners have also become much more wide ranging in age and taste, with a greater focus on:
Sustainability and the use of natural resources for textiles, furniture, flooring, objects, and interior/exterior spaces
Homey, convertible, and open-air spaces with an indoor/outdoor flow
Leveraging innovative, smart technology
Modern minimalism, with a nod to nostalgia and whimsy
Wellness and entertainment spaces 
The last decade has reaffirmed the Sunshine State as a mecca for yachting and an interior design epicenter, a true nexus for cutting-edge superyacht interiors – all of which bode well for 2020 and the decade ahead to be an exciting one for the superyacht community here in South Florida and globally, and Patrick Knowles Designs is proud to be a part of it.