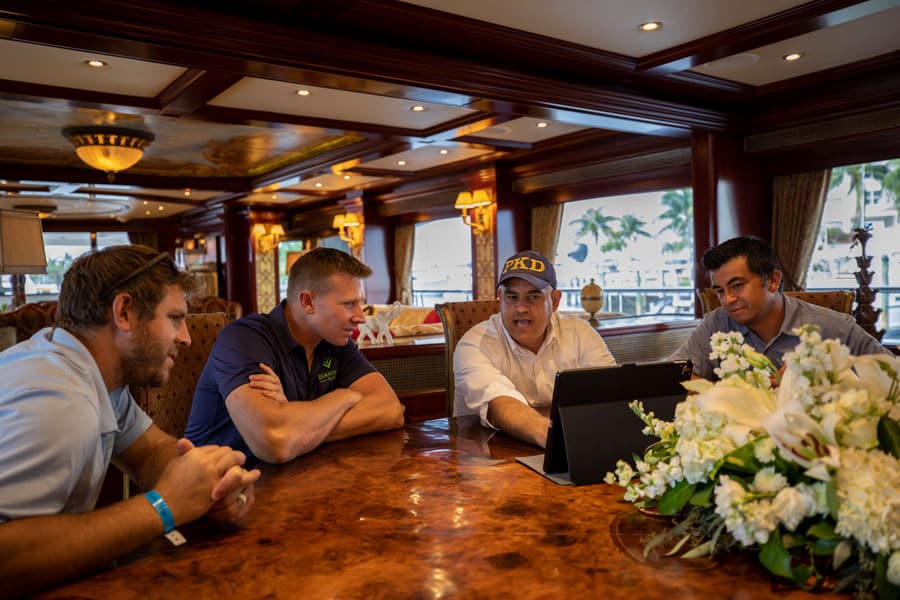 There are so many questions that come to the surface when clients or shipyards come to PKD about a new superyacht or a refit project. Purchasing and designing a superyacht can be daunting, but that should never hinder a dream! Yacht owners can make their design experience easier, and I dare say, FUN, when they come equipped from the start with the questions that will ensure their comfort with the design team and provide assurance that their expectations will be met and exceeded.
As a yacht owner, what are the right questions to ask to make sure you are partnering with the right design firm? Here are some suggestions from the team at Patrick Knowles Designs:
5 Questions to Ask Yourself:
Have I set a proper budget I would like the designer to meet?

Have I done some research to consider some styles and designs I may like?

What will be the main use of my yacht? Is it mainly for family travel, long range expeditions, charters, easy luxury travel or other uses?

What components of the yachting experience are most important to me?

What specialty items, like high end art or a wine collection, will be housed in my yacht?
10 Questions to Ask the Designer 
Why should I hire a yacht designer instead of an interior designer?
What is your design process and how will the project management be structured?
How often will we be in touch regarding the process and design?
What if I don't know what design style I want at all – are you able to help guide me?
Do you have vendors and contractors you have worked with previously and will you provide examples of their work before adding them to the project?
Can you provide photos and video of your previous projects in a similar style to what I am looking for? 
Are you able to show me examples of storage innovations, technical innovations and creative space planning from your previous projects? 
Can you integrate a specific furniture piece or certain accessories into the design?
Beyond interior design what other services do you offer? (For instance at PKD we have been known to design and manufacture custom furnishings, hardware, china and flatware, uniforms and more tailored to our clients' needs) 
What does the budget look like and how will additional purchases for the project be handled?
Remember that the yacht design process should feel like a luxury in itself, and not a stress on the owner. The right designer will guide you, LISTEN to you and work with you as a partner to develop and create the ideal yacht for your needs.
Start your search at PatrickKnowlesDesigns.com.