"A sailor's joys are as simple as a child's." – Bernard Moitessier, Sailor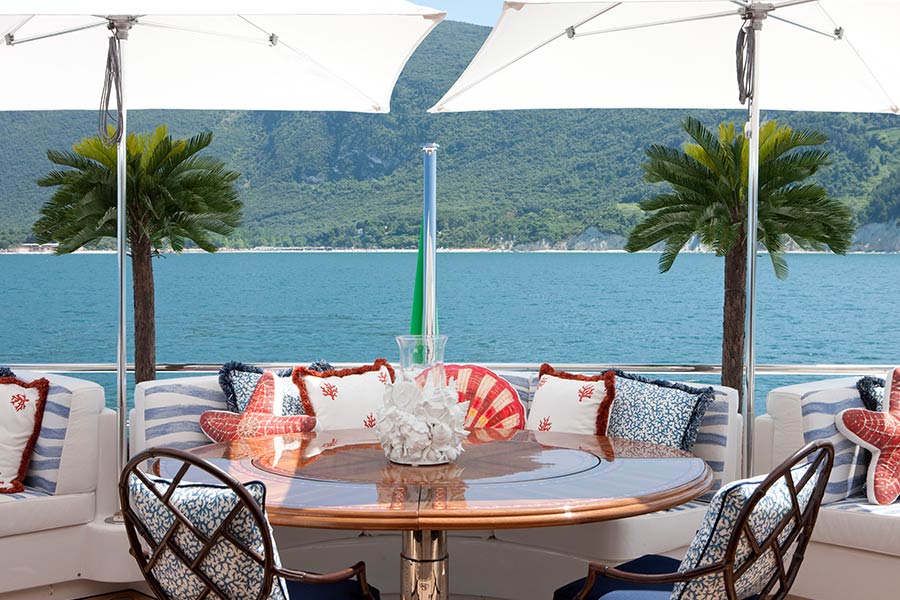 PHOTOGRAPHER: Kristina Strobel
A child's delight and wonder of the natural world, especially the sea, is something special to behold, as well as to treasure and even work to emulate when it comes to designing for the superyacht owner with a family.
In the yacht project pictured throughout this blog post we were designing for young parents with young children. Their design directive was for a fun and contemporary boat and this client stated, "When onboard, we always want to feel like we are at a fine resort in the South Pacific…the likes of the Four Seasons.".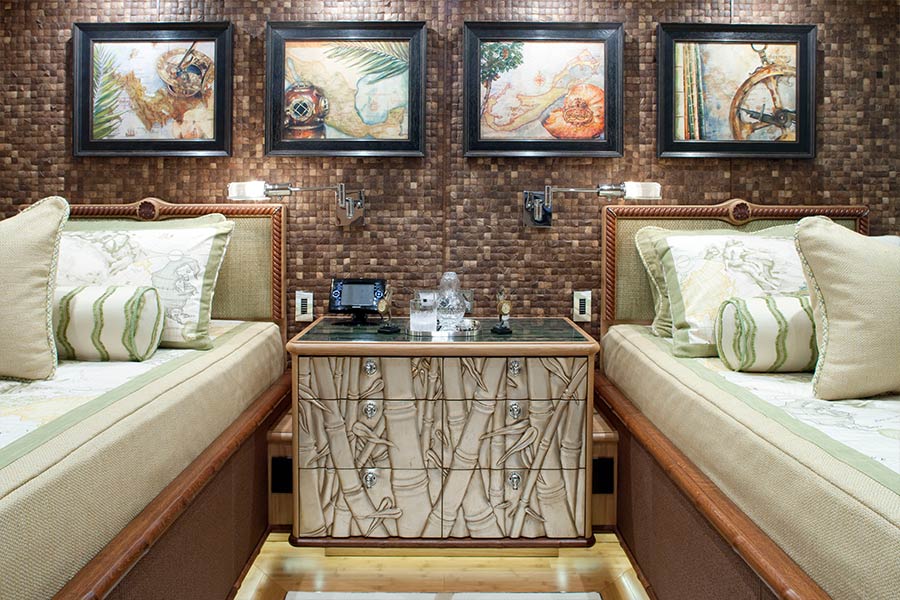 PHOTOGRAPHER: Kristina Strobel
Ensuring that these sophisticated design sensibilities were not sacrificed, but instead reinforced in even the family friendly spaces, could have been a challenge, but one that we conquered through innovative design.
Though many luxury yachts are perceived as adult jet set playgrounds, there are in fact yachts with their own multi-generational families on board, therefore, many yacht owners create their homes on the sea around multiple sets of needs.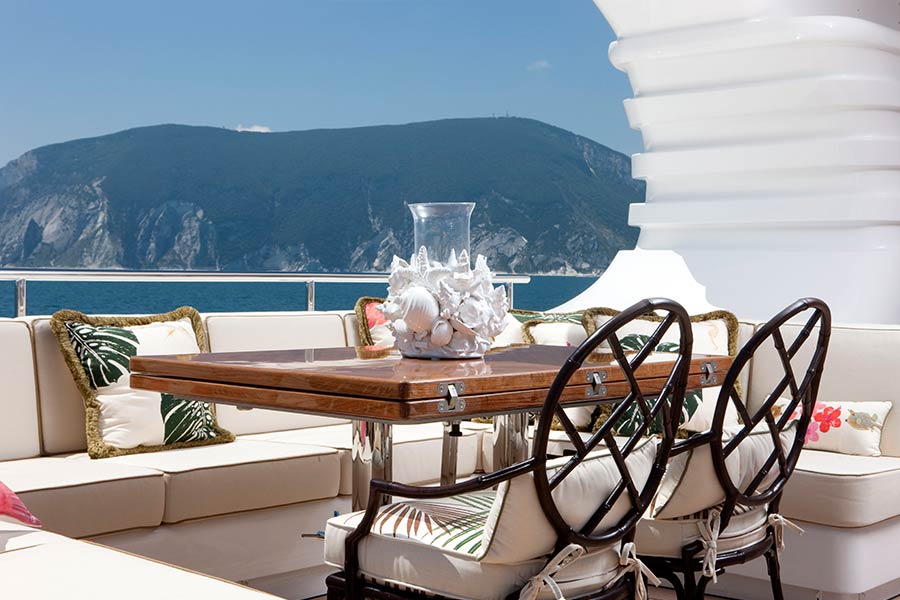 PHOTOGRAPHER: Kristina Strobel
Designing with the family in mind throughout the entire yacht, choosing designated areas for adults and children, or even creating convertible areas that merge from children's play areas to adult spaces are all options. Regardless of the choice, sacrificing the luxury yacht owner's aesthetic is not at all a necessity. It's all about leveraging and maximizing space so that everything flows seamlessly and proportionately.
When it comes to designing spaces for children, underwater sea life and nautical motifs are a natural for kids sleeping and play spaces. Robert Louis Stevenson's famed tale "Treasure Island" is one way to capture design through storytelling: using world maps and nautical maps are just one of the ways to approach this design motif. Yachting itself presents a wide array of additional maritime motifs like compasses, captain's wheels, anchors, boats and knots. Universal themes like coral, fish and other marine animals are also appealing to both adults and children.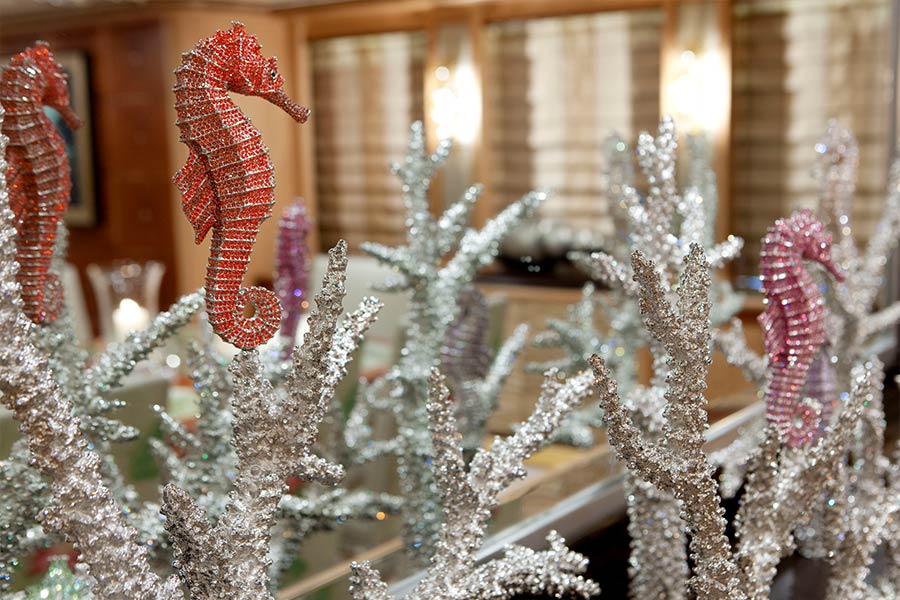 PHOTOGRAPHER: Kristina Strobel
If playing upon the nautical theme is not for you, then leveraging one's sense of play and whimsy through color is another way to capture the spirit of the sea. Using bright, jewel-toned color or the bold "neutrals" of the ocean – white, ivory, navy, indigo, red – are all perfect schemes for any age.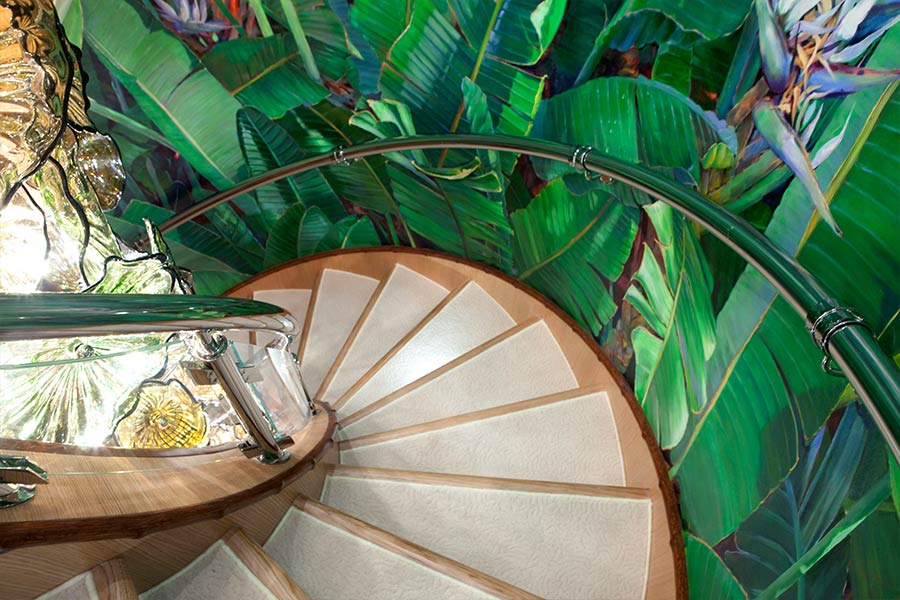 PHOTOGRAPHER: Kristina Strobel
One of the most important aspects of designing for a family is using durable materials like solution-dyed acrylic textiles, quartz stones, and easy-care linens against natural wood species and painted surfaces. Easy-to-clean carpets and textiles are also imperative while designing c for the family at sea in mind.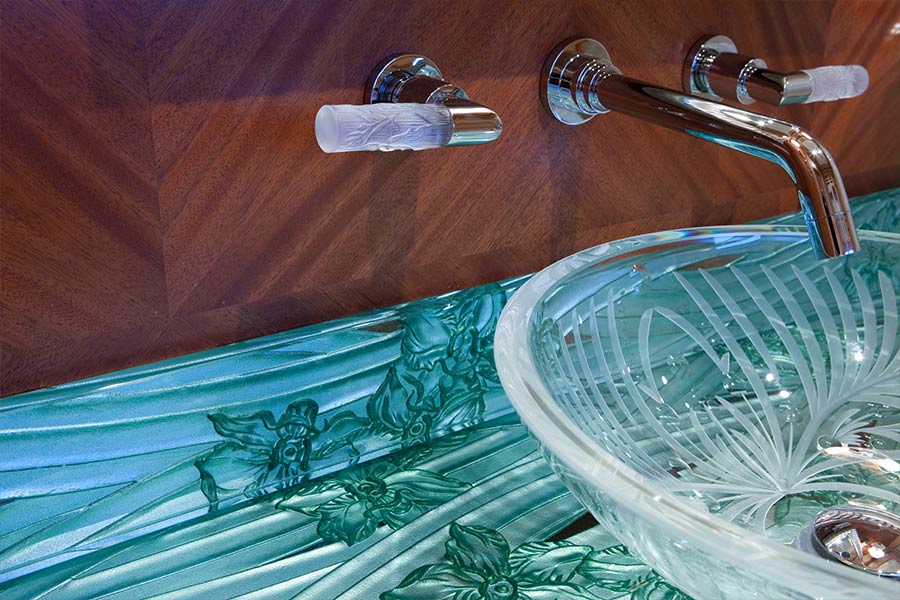 PHOTOGRAPHER: Kristina Strobel
The spaces that owners must focus on the most however, are the gathering spots – the media/family areas, the lounging deck/area, and the dining areas. Design can be useful in keeping a separate family dining area and an adult friendly entertaining space, enabling the yacht to work for all needs.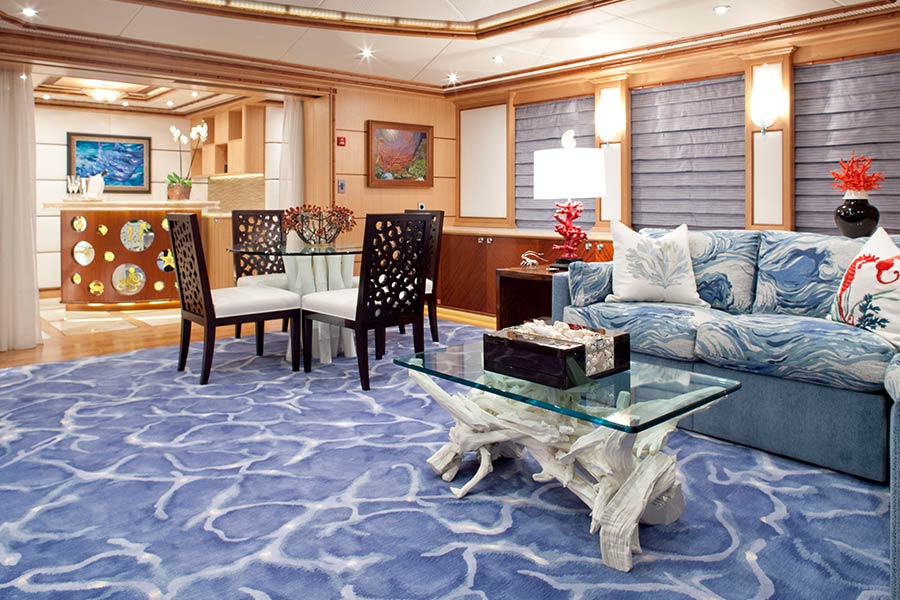 PHOTOGRAPHER: Kristina Strobel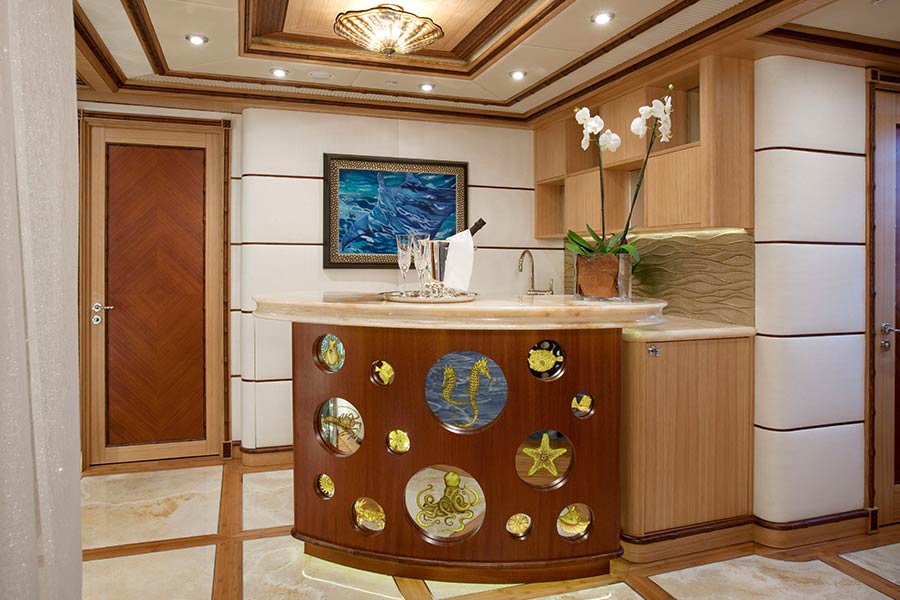 PHOTOGRAPHER: Kristina Strobel
In addition to design, making these spaces child-friendly with respect to safety is paramount. Patrick Knowles Designs ensures all spaces are properly specked for children, e.g. deck-edge rails, gates, and good visibility from interior spaces to deck areas.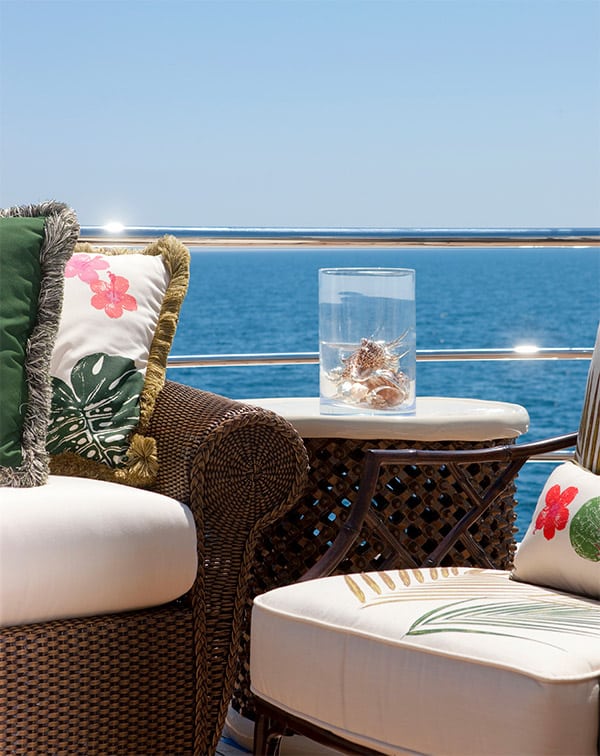 PHOTOGRAPHER: Kristina Strobel
The legacy of yachting is one to be passed down and a warm and cozy family ambience for a superyacht interior leads to a lifetime of vacations to remember, adventurous journeys, and experiences to treasure forever – together.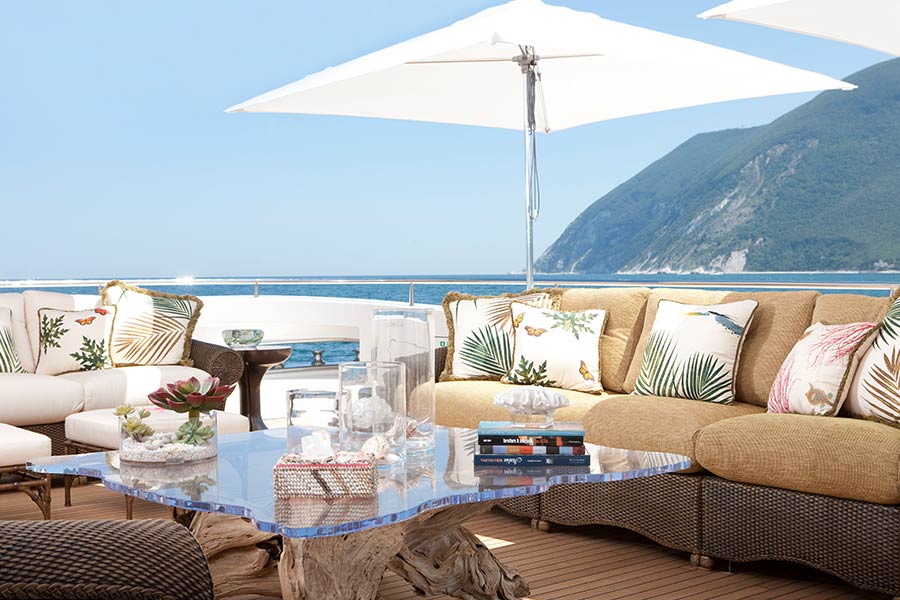 PHOTOGRAPHER: Kristina Strobel